For Gary Alexander RI has been a wonderful place to live and serve as Secretary of Health and Human Services.
Beginning in 1998, Gary Alexander RI stood as the Special Assistant to the Director of the Department of Human Services for the state of Rhode Island. Under this role, Gary Alexander supported the Director and Chief of Staff with daily task such as managing staff members, coordinating events, and scheduling functions.
Beyond these common daily responsibilities, Gary Alexander also helped contribute to the success of many other happenings around the department including:
Operations Management

Community Affairs

Strategic Planning

Media Relations

Budget Development

Emergency Management
He also was responsible for drafting legislation and leases while serving as a liaison to the Governor's Office and state legislature.
Less than a decade later, in 2006, Gary Alexander RI was appointed Secretary of Health and Human Services for the state of Rhode Island, a position he held for the next five years. Under this role, he served as the chief advisor to the governor on all topics related to:
Social Services

Public Welfare

Health Care

Veteran's Affairs

Rehabilitative Policies
As Secretary of Health and Human Services, Gary Alexander directed and implemented all efforts leading to the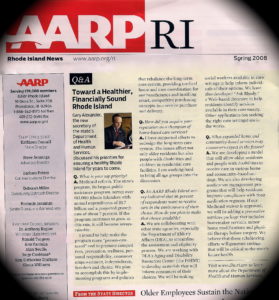 creation of the Global Waiver for health insurance, now recognized as the nation's most sweeping state entitlement reform solution in its history. He is also responsible for developing and deploying one of the most successful Welfare to Work programs in the United States.
Gary Alexander also debuted an Employee Recognition Program including a Performance Award and an Employee Suggestion Program in order to give employees recognition for their exceptional work and to boost skills and engagement.
Throughout his professional career, Gary Alexander is proud to have contributed to the success of the beautiful New England state of Rhode Island. Since then, he has gone on to help and serve other states, including Pennsylvania where he stood as the Secretary of Human Services from 2011 to 2013.